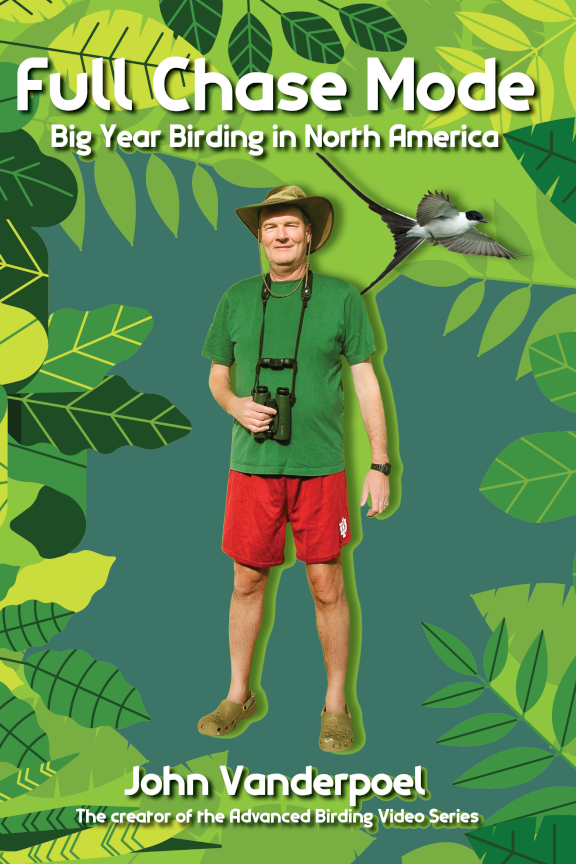 John Vanderpoel is a lifelong birder and the creator of the critically acclaimed Advanced Birding Video Series with Jon Dunn. In 2011, John set off to undertake a North American Big Year. His whirlwind adventure took him to the edges of the continent. He sailed the high seas with the Admiral of the Atlantic, the Queen Bee of the Western Sea and a modern-day mystic. He raced ATVs over the stones of St. Lawrence Island with the Czar and up a snow-covered pass on Adak Island in the middle of December with a frontier man. Along the way, he tallied more North American birds in one year than he'd seen in his entire life and met scores of interesting people, including many of the legends of the birding world. He wasn't searching for the meaning of life - he was too busy living it. For three hundred and sixty-five incredible days.
Exciting and entertaining look inside one of birding's greatest challenges!
What a great book! Highly relatable, wonderfully readable. As someone who has chased a bird or two I can totally relate to the abundance of challenges and emotions John Vanderpoel describes in his Big Year adventure book, Full Chase Mode. JV's writing is honest and educational. I found his unpretentious style refreshing, particularly in the sometimes overly technical world of birdwatching. Several times I literally laughed out loud imagining myself in one of JV's precarious situations. Though entertaining, Full Chase Mode is also highly educational. I picked up so many tidbits, from geography to bird ID to politics, all sure to serve me well as I tackle my personal birding goals. Full Chase Mode is a great addition to any birder's collection and will forever serve as an instruction manual for birders brave enough to attempt an ABA area Big Year. Enjoy! — V Roumi
Bottom line up front: Full Chase Mode is the story of one man working hard to see as many species of North American Birds as he can in a single year. Birders and non-birders alike have seen the movie. From owling after midnight on New Year's Eve, then trekking across North America for 365 days.
...

Full Chase Mode lets the reader vicariously live the obsession. We find and follow John Vanderpoel, crazy about not just birds, but mammals, reptiles, amphibians, and just about anything else in the animal kingdom. He's on a 2011 quest to see 1000 species of birds, mammals, reptiles, and amphibians in a single year. The ABA record for birds (at the time) was 748 set by Sandy Komito in 1998. He of THE BIG YEAR (Owen Wilson) fame. John doesn't think he has a chance at that record. But, wait.

John's adventure is free of adverbs since they're not needed. The action speaks for itself without the need for hyperbole. For the birder, this is a book about day-by-day accomplishment from the hunt for and the discovery of one new species to the next. Birders know how that rarity pops up in their area resulting in a 25-mile drive to tick it. Full Chase Mode is that effort on steroids; distances multiplied by 100. Imagine, over months, sitting in Niwot, Colorado; or Portland, Maine; or Key West; or Green Valley, Arizona; and learning about a rare vagrant on the other side of the continent, then dropping everything over and over and over to find it.

In addition to being a great read, and by that, I mean well-written and well-paced, John's book is an excellent lesson in the ethics of birding for new and old birders alike. How one can respect nature and the wonder that brings a bird into focus for each of us. No bushwhacking across switchbacks, no playback during breeding, just simple detective work to find and get eyes on that next bird. And find that next bird John did. One of John's common themes is the community of birding and how a team effort helped him to achieve an unthinkable level of success. That team included brothers, lifelong expert friends, acquaintances met on a pond dock, and a college student who, following John's blog, wrote, "I noticed you dipped on Cerulean Warbler. I know where you can get it." John knew everyone had something to offer and not only took advantage but passed along his sincere appreciation. We can all learn a lesson from his humanity, his tenacity, and his methodology. And for that matter we can all become better birders by adopting some of his observational skills and attention to detail.

Admittedly, this book is not for everybody. Many non-birders view us all as strange anomalies who need to get a life. That's okay. They don't get it, but John does. If you've ever considered embarking on a Big Year yourself, you will check your bank account and begin musing on the art of the possible. I know I have. Mine won't support it — RTaylor
Click
here
to see additional reviews.